Please note that you may experience significant financial loss if you proceed with a Simple Buy/Sell in unfavourable trading conditions.
Order Book
In order to understand how the average price of a trade is calculated, we need to understand the concept of an Order Book.
An Order Book is a record of all the orders placed by traders (also called market makers) at their preferred prices to buy or sell an asset.
Market Makers on an exchange are traders who don't trade at the current market price and are willing to wait and pay a fixed price for an asset. The various orders (price & quantity) specified by these market makers constitute the order book.
Market Takers on the other hand are traders who want to trade right away at the current market price.
Average price during a Simple Buy/Sell
When you use the Simple Buy/Sell feature on VALR, you automatically become a market taker. For example, if you want to buy bitcoin using Simple Buy, you'll get your bitcoin right away and you'll pay the best available price from the order book.
Let's look at an example. Here's a typical order book: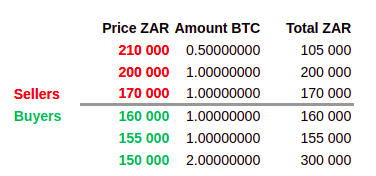 In the above scenario when you buy using the Simple Buy feature, you are buying from the sellers in the order book.
Example: What happens when you buy for ZAR 200,000 in the above scenario?
If you spend ZAR 200,000, you'll be able to purchase only 1 BTC at the price of ZAR 170,000 because there is no more bitcoin being sold at that price. So, the remaining ZAR 30,000 will be used to purchase from the second order in the order book at a price of ZAR 200,000 per BTC, i.e. you get 30,000 / 200,000 = 0.15 BTC with your remaining ZAR 30,000. So, you will get 1.15 BTC which will takes your average price to ZAR 173,913.04 which is higher than the best available price before this order was placed.
In summary, since a Simple Buy/Sell order is matched with existing orders on the order book, a Simple Buy/Sell order may be fulfilled at a number of different prices based on the size of the new order and the size of the existing orders on the order book at that time.
VALR recommends that if you want to trade an asset right away using Simple Buy/Sell feature, you should be aware of the average price you are paying for your purchase which can vary depending on the quantity of the trade. If the average price tends to be not favourable, consider placing orders of smaller quantities to improve your average price.