The VALR Exchange is available to all our customers and can be accessed by clicking the "Go to exchange" button on the Wallets screen. The exchange allows you to set orders to buy bitcoin and ethereum (and soon other crypto-assets too) with the best fees in South Africa.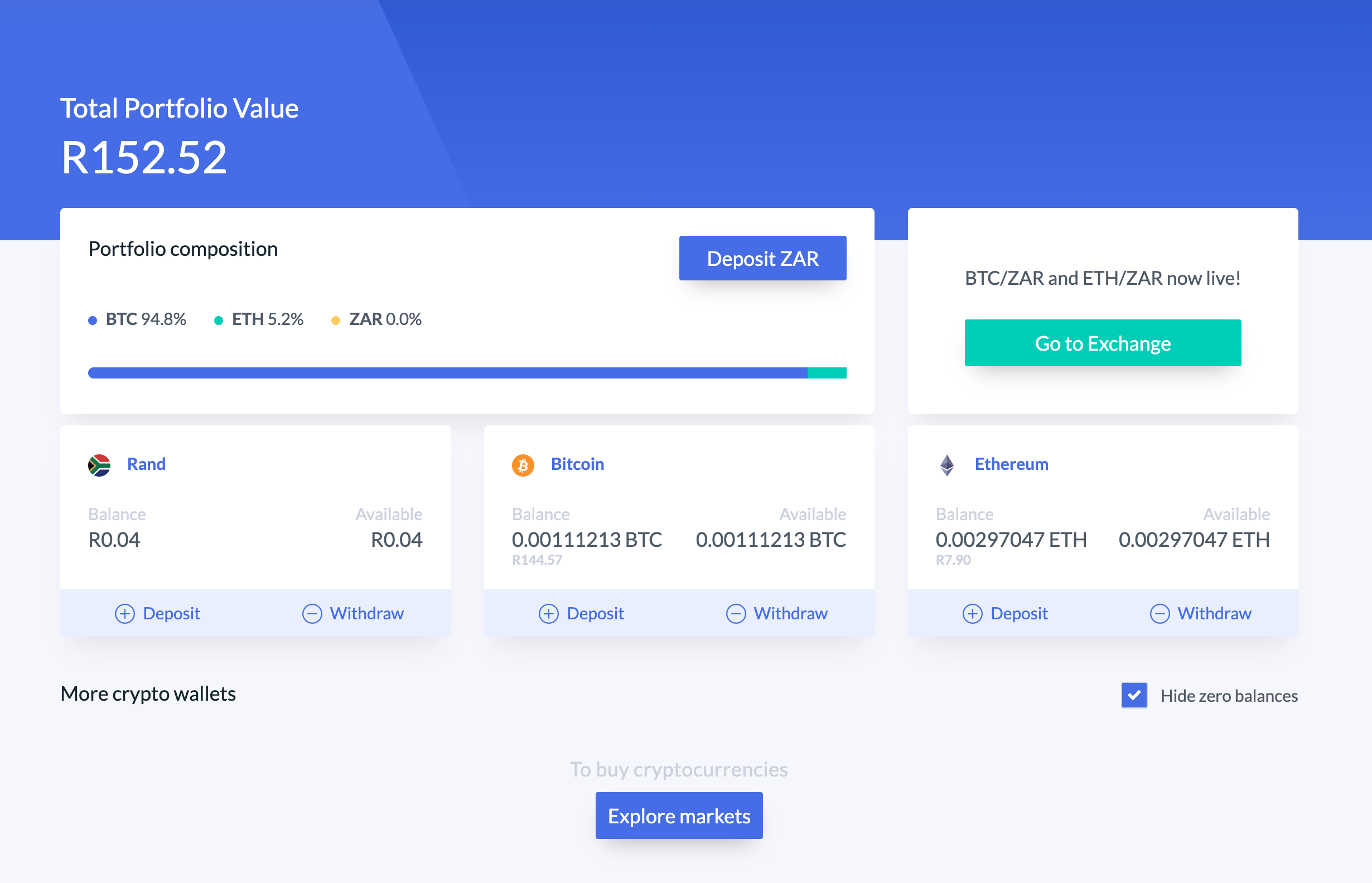 The exchange interface looks like this: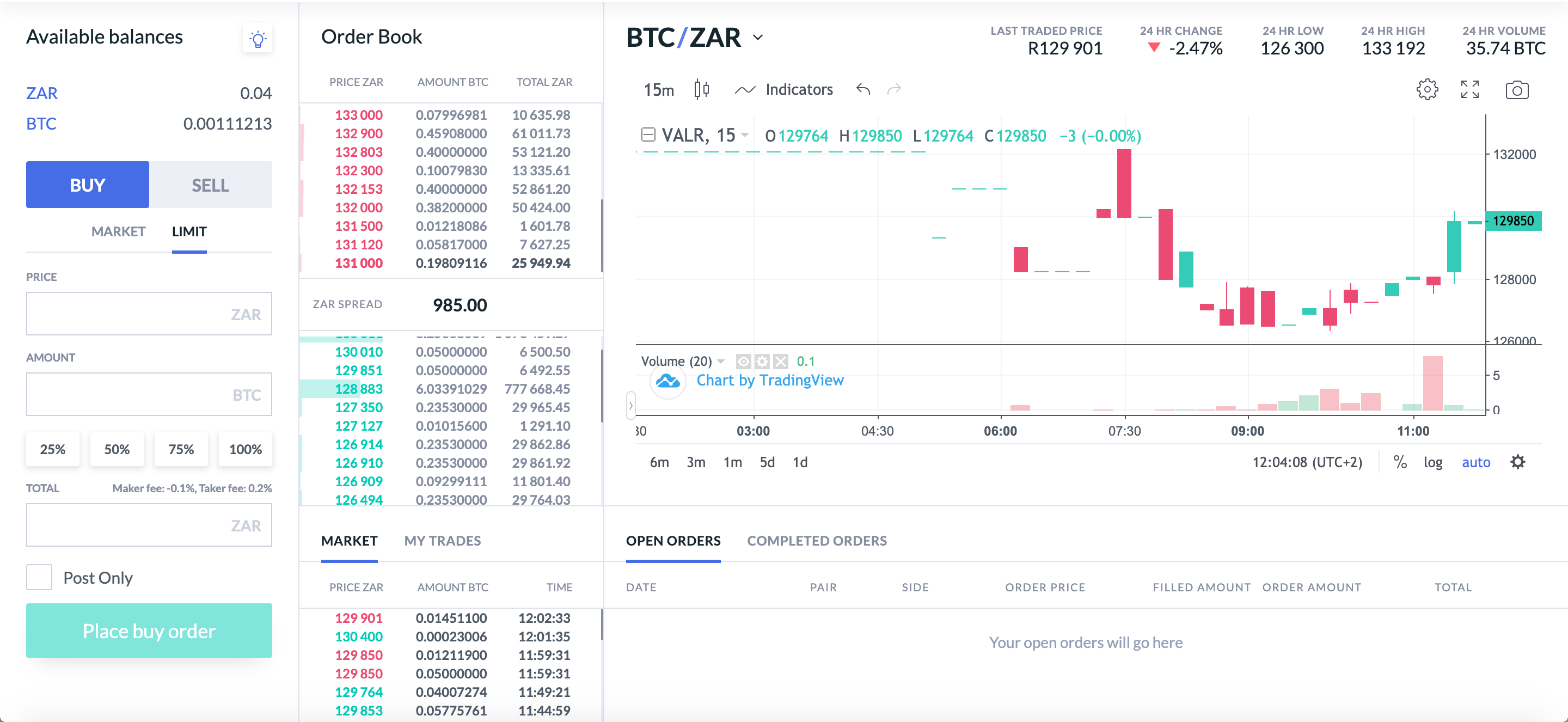 The exchange page consists of the following components from left to right:
Buy / sell order form.
Order book.
Recent trades list (both for the market as a whole and your trades).
Interactive charting provided by TradingView.
Open / completed orders list.
Buy/sell order form:
The buy/sell order form allows you to place market or limit orders. This means you can either buy cryptocurrency at the ruling market price (paying 0.2% in fees) or you can place a specific limit order at a certain price (where you'll pay 0.2% if you match an existing order, or -0.1% if you place a new unmatched order which is later matched by another trader).
You are also able to set up post only trades, where your order will only be added to the order book if it would not match with an existing order. If a proposed post only trade would match another open order, it is immediately cancelled.
By the way, that little light bulb on the top right of the order form switches views between day and night modes.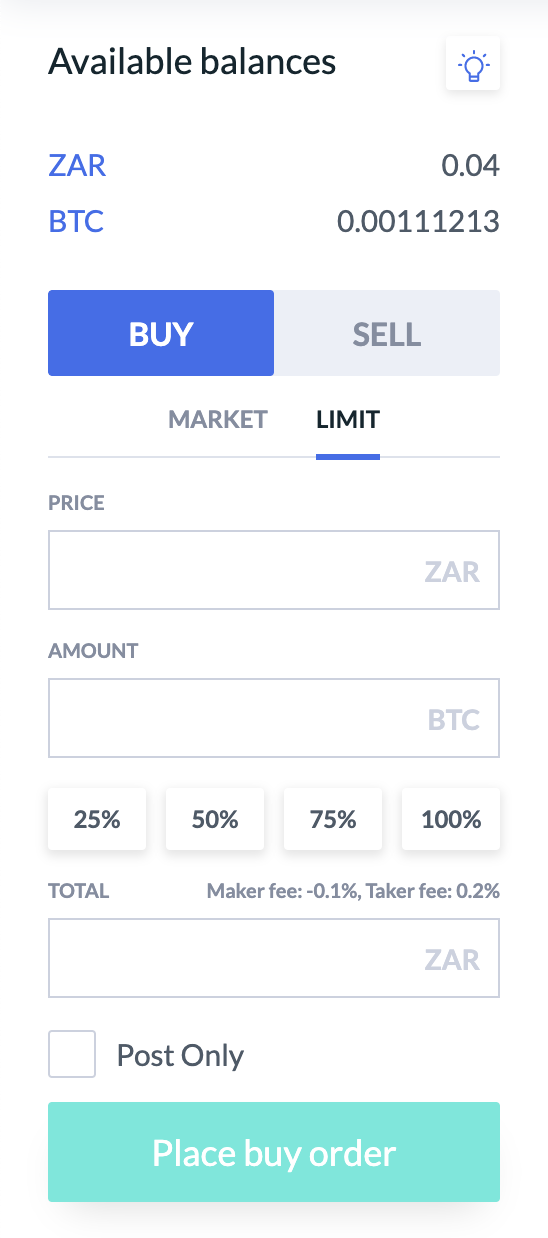 Order book:
The order book lists all existing orders on our platform, this is the reference list that traders use to evaluate what price (column 1) and volume (column 2) and total ZAR value (column 3) is available to trade.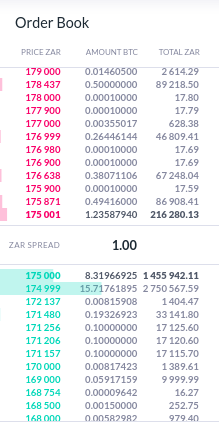 Recent trades list:
The list of recent trades reflect the price (column 1), amount of cryptocurrency (column 2) and time (column 3) of the most recent trades.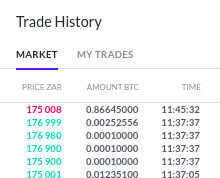 Interactive charting:
Our charting tools are provided by TradingView.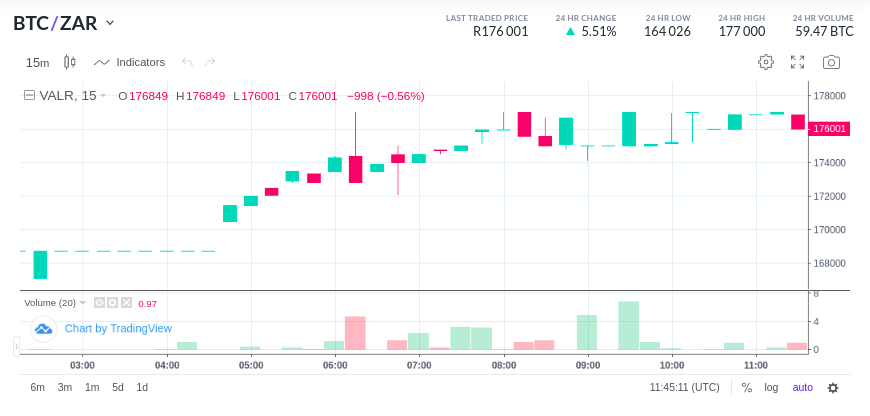 Within this chart, there is a wealth of functionality available for our users, including:
Selecting currency pairs (more trading pairs coming soon).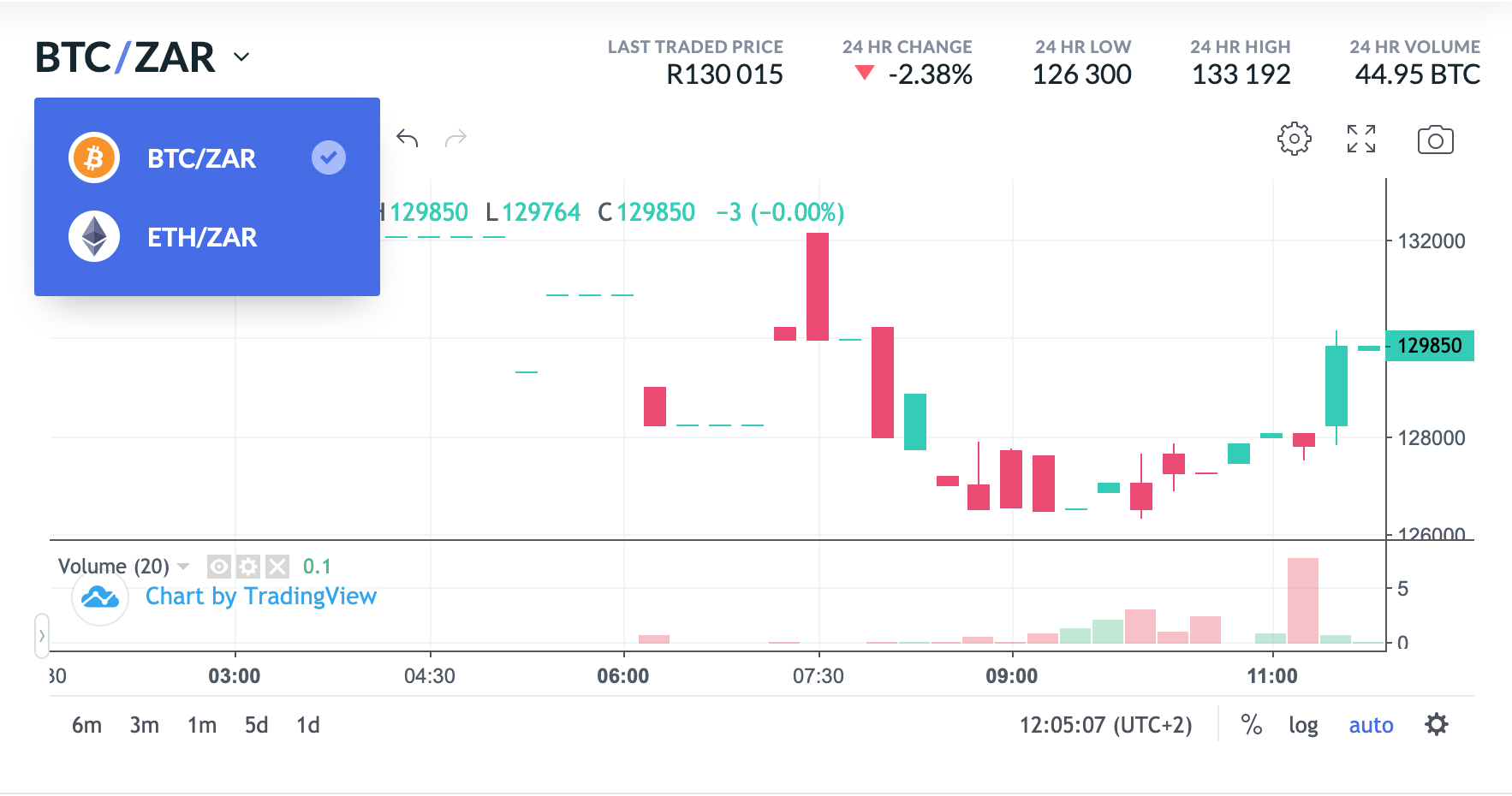 A view of last traded price, 24H price change, 24H low/high and 24H volume in cryptocurrency.
Customizing chart view to bar, candle, heikin, line, area or baseline views: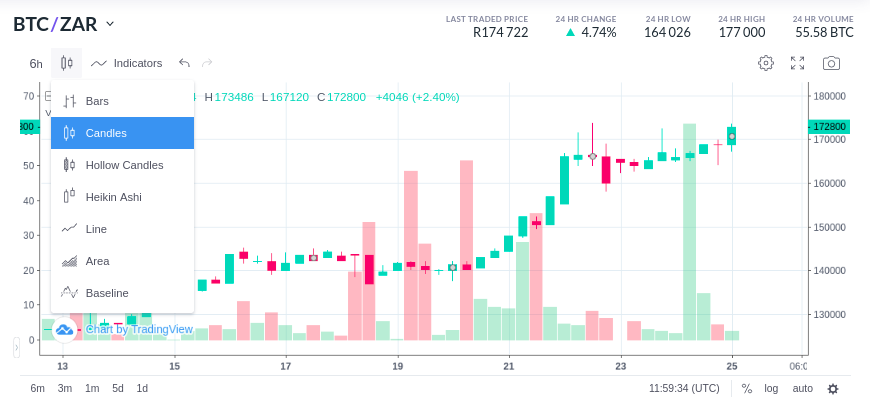 Editing style, scale, background and timezone settings (top right):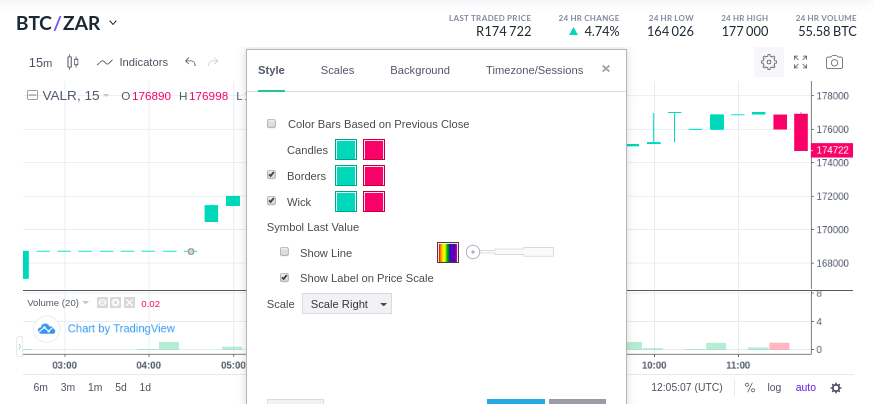 Easy options for selecting 6m, 3m, 1m, 5d or 1d time scale (bottom left) and scale settings (bottom right).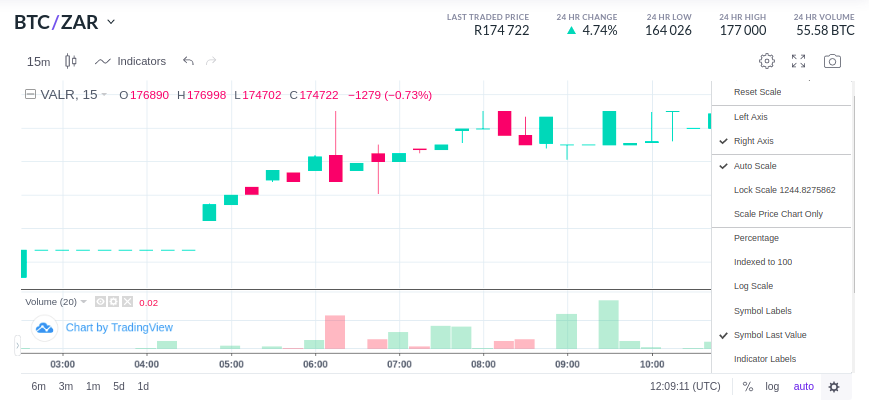 Open/complete orders list:
Open orders reflects the list of orders that you have placed which have not yet been fully matched with another user.
This shows the date an order was placed, the trading pair being offered for trade, whether you're buying or selling, price, volume filled (or traded), total volume offered and finally total ZAR value.

Completed orders shows the list of orders that have either been completely filled or partially filled at the point in time the order was cancelled.

We hope you enjoy our trading view, it was made with love by VALR.