VALR Pay is a free, fast and easy way to make ZAR payments to any mobile number, email address or VALR Pay ID*.
VALR Pay ID is a unique QR code that can be scanned to receive payment from a VALR account.
To get started, navigate to the "Pay" tab in your VALR app or via the VALR website.
Receive ZAR:

Request payment by sharing your phone number, email, or VALR Pay ID with an existing VALR customer.
Send ZAR:

Make payments quickly and easily from VALR to any phone number, email address or by scanning another customer's VALR Pay ID;

Add a message for the recipient, note for yourself and choose whether to send the payment anonymously.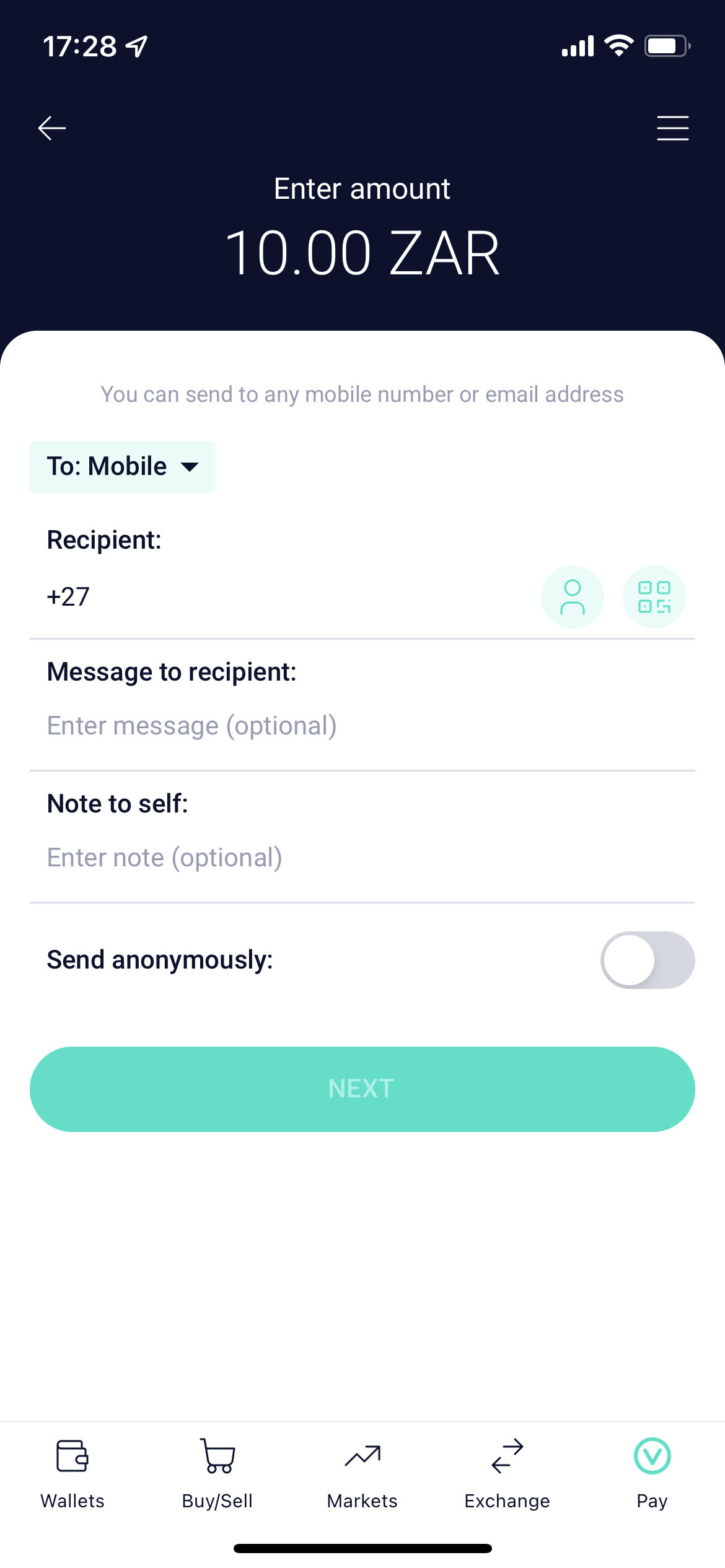 Earn promotion has now ended! R1 million was paid out over 1 week to customers!

Receive a R100 reward for every payment made to accounts not yet registered with VALR, as long as that person then successfully completes registration on VALR to claim your payment within 72 hours;
VALR has allocated R1 million to this VALR Pay reward pool. Once the R1 million has been paid out the reward will no longer be available. However, we may increase the initial R1 million reward pool at our sole discretion;
Get unlimited referral rewards from people who sign up using your referral link and go on to pay fees to VALR for trades. (click here for more details)
How do I view my previous VALR pay transactions?
VALR Pay transactions will show up in the transaction history of your VALR account. Click on a particular transaction record to see further details including who you paid, recipient message and personal note.

Does the person I'm paying have to have a VALR account before I pay them?
No. Anyone not on VALR will receive an email or sms informing them of your payment and inviting them to sign up to VALR for free to claim the payment. They will need to sign up and become fully verified with 72 hours to claim the payment, otherwise the payment will be reversed.
How do I fund my VALR account?
You can fund your VALR account with an EFT from any South African bank. Please go to your wallets page on the app or the website for further instruction on how to deposit ZAR into your account.
Is there a cap on VALR Pay payments?
Individual payments are capped at R50,000 per payment right now. There is no cap on the number of payments that can be made using VALR Pay.
What happens to unclaimed payments?
Payments to a person who is not yet a fully verified VALR customer remain unclaimed until the receiver completes registration with VALR. If a payment is not claimed within 72 hours, the transaction is reversed. Transaction reversals will appear in the sender's transaction history as a reversal with relevant details of the attempted payment.